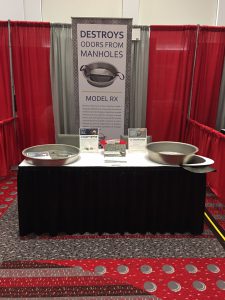 We had a great time at the RMWEA/RMSAWWA 2018 Joint Annual Conference in Denver this year! 
ABOUT US
The Clemens family has been dedicated to creating and maintaining America's wastewater infrastructure for four generations. It began in Cannelton, Indiana in 1906 when Henry Clemens founded the Cannelton Sewer Company and continued when his son, Edward Clemens, expanded the company to Mineral Wells, Texas in 1956 with the purpose of providing the building materials necessary for westward expansion. The Texas plant employed over 100 people and had an annual production of over 2,000 cartloads of pipe, making it the most modern of its kind in the United States at the time.
Inspired by the work of his father and grandfather, our founder Art Clemens invented The Odorknocker in 2001 as a means of solving the odor problems that come from those pipes and irritate the neighborhoods they serve. He grew the business to provide for municipalities all over the United States and, before his passing in 2017, entrusted the company to his son Jim Clemens. We're honored to continue the commitment of three generations to clean, safe water wherever it's needed.
To learn more about our founder read Art Clemens' Obituary.